Rear
Axle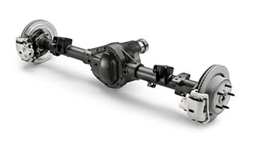 Especially used for installation in e-rickshaw, the offered Rear Axle is made available with us in standard sizes. This rear axle is precisely designed and manufactured by our deft professionals using supreme quality metal alloy and innovative techniques. It is used as central shaft for rotating backside wheel of e-rickshaw. Also, clients can avail this Rear Axle at marginal rates from us.

Features:
• Strong construction
• Resistant to corrosion
• Dimensionally accurate
• Smooth edges

Technical Specifications
Rear axle
Drum Brakes
Differential Included
Leaf Spring Support
Tie rod adjustment
Available in different sizes
The axle part in e rickshaw which supports the differential and motor, we provide an axle designed to support motor weight and differential which works for efficient e rickshaw performance, the strength of axle is important for safety and life of the vehicle. High grade metal prevents damage to internal parts. The axle used by E rickshaw Spare Parts has several design benefits such as larger drum, wide leaf spring support, strong axle mounts for tie rod, leaf spring and motor, the design also makes it to be easily installed in most e rickshaws.